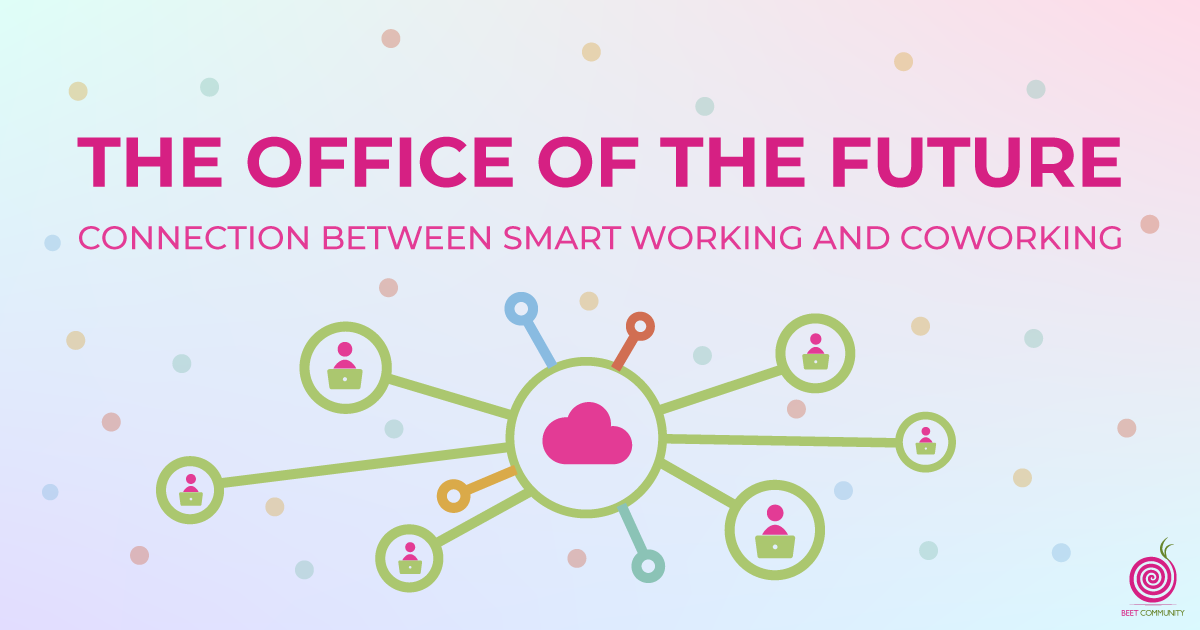 Flexible spaces or coworking are able to meet the needs of smart working, optimizing costs and stimulating the creation of new ideas through sharing and co-creation.
The role of the traditional office is radically changing, leaving space for a future of smart-working, remote work, sharing of workspaces and coworking.
We can no longer speak of a static and fixed workplace; in fact, the office of the future will be defined as a space where it is possible to have a computer, an internet connection and the guarantee of data protection security.
In parallel with the growth of remote work, the culture of flexible work spaces is also spreading. On the one hand, companies are thinking about the redesign of old offices, including and facilitating networking; on the other, flexible, equipped and personalized spaces are being created to accommodate professionals, freelancers, entrepreneurs and startuppers.
Flexible spaces are serviced offices or coworking, capable of satisfying the needs of the new agile working style, such as saving time, optimizing management costs or utilities and, through space sharing, favoring meetings between workers, stimulating the creation of real communities of professionals.
Compared to Italy, in the other European countries the phenomenon of connection between smart working and coworking is already consolidated. But for example in our country the spread of coworking has not yet reached the peak of maturity, even if there are growth figures.
Coworking spaces are increasingly in demand throughout the country, so much so that there is one coworking every 90,000 inhabitants (Italia Coworking Annual Survey). That's not all: more than 1 space out of 4 is located in an agglomeration below 50 thousand inhabitants and half of these works in municipalities below 20,000. The growth forecast is still enormous: according to Idc, in 2022, 65% of the European workforce (123 million individuals, 10 million in Italy) will be made up of mobile. According to CBRE, the interest of Italian companies in shared spaces will increase by 38% by 2020.
Taking into account the change in the current pattern of work, no longer based on control but on the result, the growing affirmation of innovative workplaces can be considered consequential, as well as the need to create new design opportunities and increase productivity at more advantageous costs.
But what is coworking? What kind of services does it offer?
A coworking is an innovative place that gives the opportunity to rent a well-equipped workspace, can make available to users a range of "time-saving" services, such as babysitting, laundry, staff available to take care of the shopping of the worker or any other purchase.
In this way, the workspace is no longer a limit, but an enabler of better results. A place to balance the connection between private life and work.
We are inside a revolutionary concept of the working space, because an environment, both physical and virtual, intelligent, flexible, collaborative is able to improve the work experience, increase worker productivity and achieve reconciliation with private life.
Coworking, in fact, as workplace mainly frequented by freelancers, is arousing strong interest also for companies that identify it as an innovative solution to the new need for flexibility in working relationships.
Many spaces not only offer the opportunity to enter a thriving business community, but also to create meaningful connections with staff from different companies, thus expanding their design and working capacity.
In fact, coworking also has the important function of creating or facilitating connections between different subjects. This aspect leads to the creation of an ecosystem to support work, which in the near future, (including through the use of intelligent tools such as predictive responders, voice UI or automated video conferencing systems), will allow greater productivity of employees/workers.
Following this vision, Beetroot srl, through Beetcommunity, has developed its concept of flexible work, providing professionals and companies with a multitasking office, able to meet to the most diverse needs.
The Beetcommunity stimulates relationships between workers by encouraging multidisciplinarity; believes in a shared planning among the members of the virtual community; facilitates creativity in a multifunctional area equipped with specific graphic stations; offers moments of relax thanks to a small green space and a range of "time-saving" services for workers.